Canadian Grocer 2021 Impact Award Winner For Supporting Employees
October 1, 2021
Excerpts from – Introducing the winners of the first-ever Canadian Grocer Impact Awards By Carolyn Cooper, Rebecca Harris, Carol Neshevich and Rosalind Stefanac
---
These days, businesses can't just be all about sales and profits; consumers want to support brands that stand for something, and employees want to work at organizations that align with their personal values—whether that's related to sustainability, community involvement, diversity, employee support, or all of the above. To recognize and celebrate Canadian grocery retail and cpg businesses that are going above and beyond to make the world a better place, this year we launched the canadian grocer impact awards.
Supporting Employee Winner – Freybe Gourmet Foods
Since April 2019, B.C.-based Freybe has been part of "Not Myself Today" (NMT)—a program administered by the Canadian Mental Health Association to address mental health in the workplace. NMT focuses on building awareness and understanding of mental health issues, reducing stigma, and fostering safe and supportive work cultures. And according to Freybe, NMT has grown beyond being "just a program" that introduces employees to the subject of mental health; it's now evolved to become an integral part of Freybe's culture.
"Mental Health challenges were always something I found that people hid in business environments due to fear of negative perception from others," explains Angela Doro, Freybe's president. "When we embarked on our mental health strategies, it was with the belief that we have the power to change this, both inside and outside of Freybe." With NMT, employees get access to support, tools and resources, including learning modules on subjects like addressing stress and working with emotions; while managers get resources to learn how to talk to employees about— and support—their mental health. Freybe's program also includes a steering committee comprised of four "mental health ambassadors" who support NMT programming and promote its message; five employees who have undergone third-party "mental health first aid certification" to help others when needed; and a one-to-one "Buddy program" pairing every employee with a designated buddy to address isolation and enable people to check in with a peer if they need support.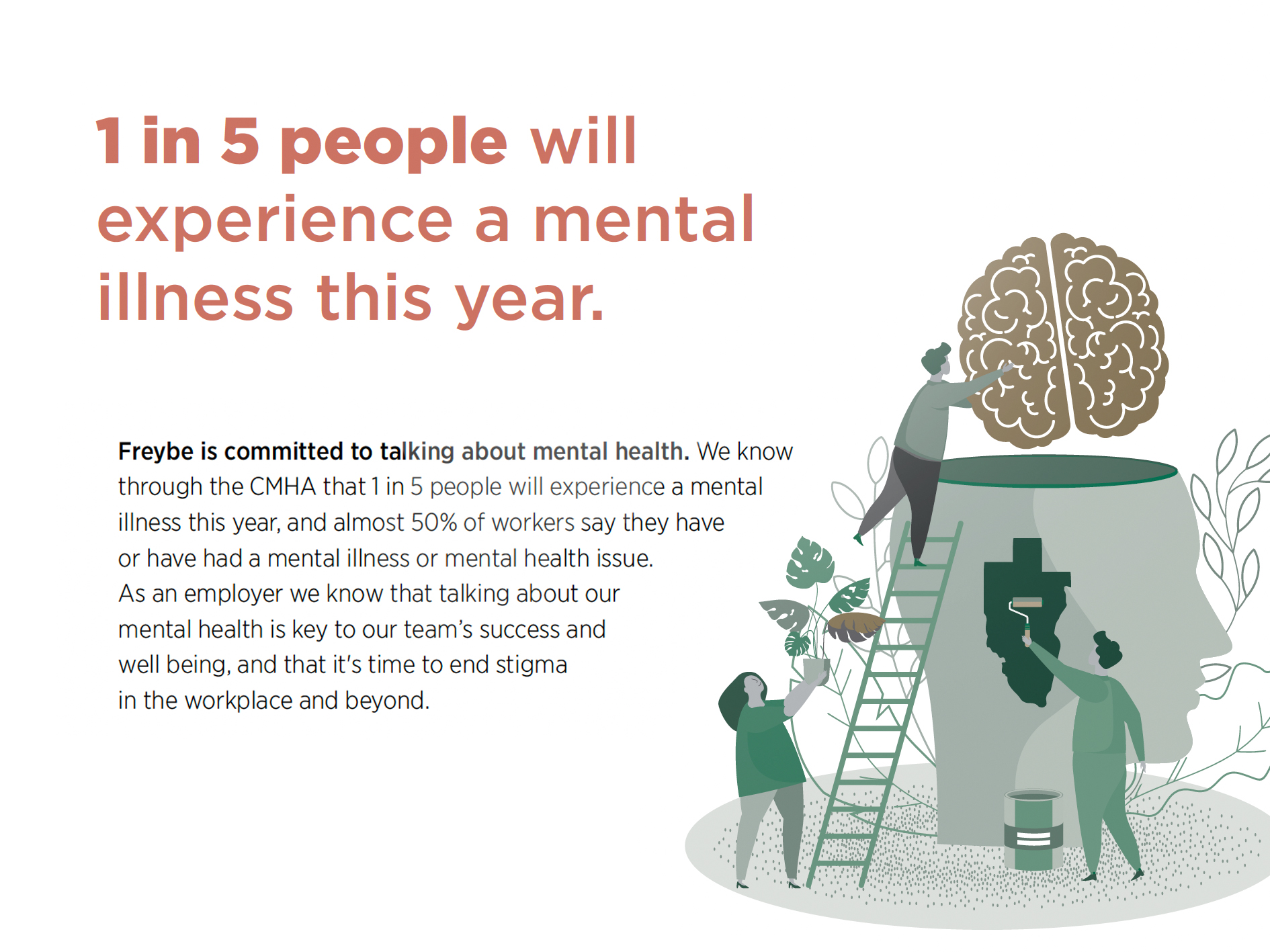 If you're ready to learn how the Canadian Mental Health Association's Not Myself Today program can make a difference for your team, we'd love to share our experience with you. Drop us a line at to_freybe@freybe.com
If you're in crisis, call 1-833-456-4566 to talk to someone who can help.