September 2, 2021 | Recipes
A Strammer in German cuisine, is an inviting egg and ham open-faced sandwich with a name that's fun to say. A staple at many pubs and homes across Germany.
We've swapped the traditional fried egg for an easy to cook scramble, mixed in some Kaiser Jagdwust and Lyoner to our Hardwood Smoked ham to make this a well balanced and filling breakfast for two.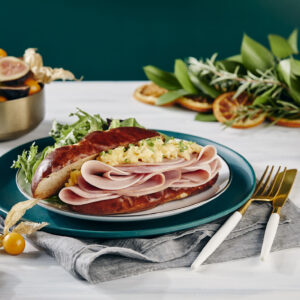 Ingredients
4 Tbsp (60 ml) unsalted butter, divided
2 pretzel buns or crusty bun
1 package Freybe's A Taste of Europe German-Style Deli Cuts
4 large eggs
2 tbsp (30 ml) milk
Kosher salt and freshly ground black pepper, to taste
1 tbsp (15 ml) finely chopped chives
Directions
Melt 2 tbsp (30 ml) butter in a large frying pan over medium high heat. Cut buns in half lengthwise and place cut side down in frying pan. Cook until cut side is golden brown and crispy, about 2 minutes. Transfer toasted buns to serving plates, wipe out frying pan and return it back over medium low heat.
In a small bowl whisk together eggs with milk and a good pinch of both salt and pepper. Melt remaining 2 tbsp (30 ml) butter in frying pan before pouring in egg mixture. Cook stirring constantly with a wooden spoon or heat proof spatula creating large fluffy curds. Once the egg mixture is just cooked to your liking, remove frying pan from heat and fold in chives.
Top bottom bun with slices of Kaiser Jagdwurst Sausage, Hardwood Smoked Ham and Lyoner Sausage before spooning scrambled eggs over meats. Cap with top bun and enjoy.
Tip: If you like cheese on your sandwich, consider using Freybe's A Taste of Europe Red Wine Salami & Gouda Cheese in place of the deli cuts.